Testimonials: Before and After Smiles...
Lives transformed in as little as 45 minutes.
Children who are born with cleft lip or cleft palate are faced with challenges many of us cannot ever imagine. Many have difficulty eating, speaking or even smiling and in some parts of the world, they are hidden away, kept from socializing, attending school or playing an active role in their community.
Operation Smile reverses this in less than an hour. Our volunteers work tirelessly to help these children have a bright and hopeful future. Throughout the Morocco, hundreds of children have experienced this transformation, and a few of their stories are told here.
---
---
Jamila Habbaz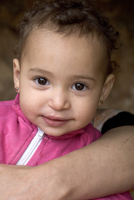 Jamila Habbaz is an eight-month-old baby girl who suffered from a cleft lip. Her name means "beautiful." Her parents, who are farmers, heard from the local hospital that the Operation Smile team would be in town providing free cleft lip and cleft palate surgeries. In March 2006, they borrowed money from friends and family to allow her and her mother Nora Malouki to travel to Fes, Morocco for the mission. When she arrived at the mission site, Nora was so happy to see that her child was not the only one that suffered from this condition. Since receiving surgery, Jamila's mother said that the baby is now able to eat and drink normally. She often has people tell her how fitting Jamila's name is.