Testimonials: Before and After Smiles...
Lives transformed in as little as 45 minutes.
Children who are born with cleft lip or cleft palate are faced with challenges many of us cannot ever imagine. Many have difficulty eating, speaking or even smiling and in some parts of the world, they are hidden away, kept from socializing, attending school or playing an active role in their community.
Operation Smile reverses this in less than an hour. Our volunteers work tirelessly to help these children have a bright and hopeful future. Throughout the Morocco, hundreds of children have experienced this transformation, and a few of their stories are told here.
---
---
Fatima Zahra Abdoulfateh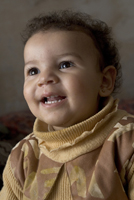 Hafida Bayatoute used to hide her nine-month-old daughter from other people because of her cleft lip. She earned the money to travel 15 minutes by taxi to Fes, Morocco, for the March 2006 international medical mission for the opportunity to allow her daughter Fatima Zahra Abdoulfateh, to look normal. After the baby received surgery, her mother thanked the Operation Smile team. She is so grateful that her daughter can now grow up and be like other children.