News
07 April 2011
FES, MOROCCO: APRIL 2-10, 2011
March 31, 2011
Yesterday, we successfully carried out a PIT (Patient Image Technology) training session at Operation Smile's Comprehensive Care Center for four in-country PITs who are also attending the medical mission this week.
Today, the majority of the team arrived into Casablanca and then we all traveled to Fes.
Because this is such a large team with essentially equal numbers of local and international volunteers, we all emphasized the importance of working as a team and learning from each other, especially since there are also a large number of trainees and observers on this mission.
Ben Rodriguez, our Plastic Surgery Team Leader, informed us that in his travels around Morocco prior to the medical mission, he actually was able to find potential patients and give them instructions on getting to our medical mission site for the chance of surgery!
Fes is a great city and we are all looking forward to screening tomorrow and to seeing the kids.
- Kia Guarino, Program Coordinator, Operation Smile
---
April 1, 2011
It has been over seven years since I was last in Morocco and it is even more beautiful than I remembered. The people are not only physically stunning, but they radiate warmth and openness.
This morning the team woke early, super keen to roll their sleeves up and get to work. The hospital is located a convenient five-minute bus ride from the hotel.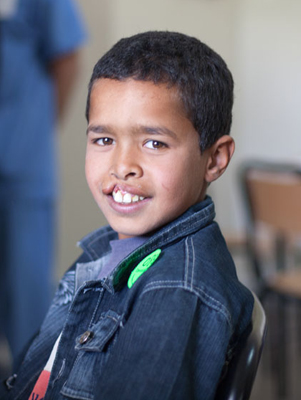 Khalid, 11, before cleft lip surgery.
When we got the hospital there were already many families anxiously waiting for the Operation Smile to arrive. All of them hoping that we can help them. All of us hoping that we can help all of them.
We hope this, though we know that the reality is that there are always some children left behind.
Outside of the hospital gates a calm melancholy father and son wait in the shade.
Khalid is 11 years old and has been living his entire childhood with a cleft lip.
Late in the day, just as the sun was becoming unbearably hot, it was finally Khalids turn to go through the screening process.
Once inside the cool hospital, a smile spread across his face as the doctors assured him that they could truly help fix his cleft lip.
His father was so happy tears formed in his eyes. Tears of joy that his son might be able to one day live a life of dignity and opportunity free of shame and desperation.
I can't wait to follow Khalid through his journey to freedom. I can't imagine what it would be like to be trapped behind a facial deformity for one year let alone 11 years of my life.
153 patients
were screened in total today, and we are expecting many more than that tomorrow. The week is just beginning but I am already so filled with hope and happiness for the kids that came today.
- Fleur Childs, Operation Smile Volunteer
---
April 1, 2011
We completed our first day of screening today! Overall, it went quite well.
Even with a few expected kinks to work out, the team was incredibly flexible, excited and accommodating.
We
screened 153 patients
today and we have already begun to build the surgery schedule. We are expecting 100s more patients to come tomorrow for screening, as they are airing a TV announcement about the mission and we already are aware of at least 100 already confirmed.
The team is excited for this turnout! We have a few Peace Corps volunteers helping out, one even coordinated for some patients to be seen by the surgeons over Skype to see if it would be good for them to travel the long distance to Fes tomorrow for screening.
We had a few more volunteers arrive today, including Alex from the U.K., and everyone has been incredibly kind and willing to help in any way.
One beautiful little girl, 8-months-old, with a primary cleft lip and silver shoes, caught the attention of the team. We are looking forward to her surgery and making her catching smile even brighter!
- Kia Guarino, Program Coordinator, Operation Smile
---
April 2, 2011
Screened 293 Patients for Surgery
Today we completed our second day of screening and in the two days, we screened a total of
293 patients!
We built our surgery schedule beginning yesterday and finished it off today.
We set up the OR and worked with the hospital to make sure everything was worked out and ready for surgery week.
The team was keen to help and enjoyed spending time with the kids and families waiting for screening and for the schedule announcement. The announcement was later than expected and incredibly bittersweet as always.
The volunteers had become friends with many of the families so it was difficult if they were not selected for surgery this time around. Patients who were not on the surgery schedule for this week were referred to our
Comprehensive Care Center in Casablanca
where children are treated year-round for clefts and are able to receive follow-up care.
The rest of our anesthesia team arrived last night and today and we have our last medical team member arriving tonight. The team has been great, friendly and excited to work on this medical mission.
Tomorrow is our free day and the team will be going to Mechness and to Marche Maroc, a local artisan crafts fair, to help support the efforts of the Peace Corps volunteers who have been so helpful the last few days.
- Kia Guarino, Program Coordinator, Operation Smile
Previous Moroccan Patients Show Their New Smiles
---
April 4, 2011
First Day of Surgery
The team was pumped for the first day of surgery. It began at 5:30 a.m., followed by a quick breakfast and then just as the sun came up as we rounded the bend into the hospital drive, ready to help as many children as we could as safely as possible.
Approximately
27 patients
were scheduled for surgery today across five tables. The patients ranged from 1 year old to 35 years old.
The patients and their guardians waited anxiously for the day to begin, having arrived the previous night and had taken their last meal at midnight, for some this would be a long, hungry day.
Many of the patients are poor farmers who had traveled far from outside of Fes and being in the big city caused fear and anxiety without the added stress of spending the night in a hospital waiting for surgery.
Many took comfort that they were not alone; that many other children suffered the same facial deformity and that there was always someone who had a worse condition than theirs.
The whole Operation Smile team worked seamlessly together to make the first day of surgery go extremely smoothly. It was not a Moroccan team or a team of foreigners it was one unanimous team that you could tell treated each and every patient as if it was their very own son or daughter.
I am blessed that I get to spend most of the day talking with the parents and their children. Speaking to the people is the best way to gain deeper insight into the culture of Morocco.
When I asked each parent why they thought their child was born with a cleft lip or facial deformity they unanimously answered that this was the way God created them and they didn't question it.
And when I asked what they hoped for their child's future they answered that they hope that they get to be normal, that they get to live a happy, healthy life.
Is it really too much to ask that all children get to live a normal life, a happy healthy life?
So much time is wasted wishing for superficial or grand things but this reminds me that the fundamentals are really all we need.
The last patient of the day was
Khalid, the 11-year-old boy
who captured my heart on the first day of screening. Today he stole the heart of every volunteer he encountered with his brave heart and broken smile.
Khalid and his mother waited patiently all day for his turn. I waited with him till the final hour where he played in the child life specialist room. Coloring vigorously and playing catch with small inflatable balls. I can't wait to see his face when he wakes up from surgery and sees his new smile.
- Fleur Childs, Operation Smile Volunteer
---
April 5, 2011
Today was our first day of surgery and in total we did
33 very safe surgeries
, mostly primary lips, one which we were able to screen and add today, a few palates and two cleft lip/palate combos.
The team worked incredibly well together over the course of the day and the anesthesia team did a fantastic job, in particular.
Overall, I am highly impressed with this team's positive attitude and adaptability! We are all looking forward to the
35 surgeries scheduled
for tomorrow!
- Kia Guarino, Program Coordinator, Operation Smile
- Photos by Veronica Dana, Volunteer Photographer
---
April 5, 2011
Day 2 of Surgery
Back on the bus to the hospital, my mind was on the
34 children
who had received surgery the day before and how they had coped through the night.
I myself was born with a cleft lip and cleft palate and have had several surgeries, the last when I was 16 years old. I remember the feeling of waking up hazy from surgery wondering where I was and why was I in so much pain.
I can remember my mother showing me my scar on my face in the mirror and looking back at a face that wasn't mine. I wanted to tell all the kids that the pain was worth it and soon in a few months the scars will disappear.
Khalid, the sweet 11-year-old boy
that I had been with since his arrival at the hospital on day one, was sitting up in bed with his mother when I went into the post-operating room to see him.
- Photos by Veronica Dana, Volunteer Photographer
His mouth was slightly swollen but aside from that his cleft lip was closed and his upper lip looked like a beautiful cupids bow. The surgery had been magnificent.
My lovely translator commented that it was like "magic." His mother said it was like a miracle, that she couldn't be happier and thanked Operation Smile for healing her son.
It was so joyous to watch Khalid leave the hospital a few hours later with a new smile and life ahead of him. As he left, I wished him all the best on his journey. He said he couldn't wait to go to school and be like all the other boys and one day he hoped to be a doctor and help other poor people.
Yahya's Chance to Smile
At 5 p.m., the team leader of anesthesiology, Craig Derby, announced that the surgery schedule was full and that there would be no more screenings of patients.
Just as he finished saying this he noticed a mother and son sitting on the bench. The boy was about 3 years old with a unilateral cleft lip. He had longish dark shiny hair and an adorable face with eyelashes that went on forever.
He and his mother had travelled for 6 hours from Casablanca. They had wanted to arrive earlier to get to the hospital in time for screening, but had gotten delayed.
Within seconds Craig knew that he couldn't leave this boy behind and that he would have to do everything in his power to make sure he was squeezed onto the surgery list.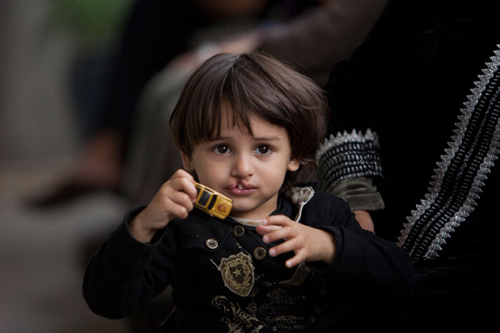 After a successful medical examination there was one more child equally as deserving and in need of surgery put on the list.
This was a happy story for this family and his mother was so very grateful. Unfortunately, the schedule was now 101% full and we really did have to stop seeing any more patients for the rest of the mission.
- Fleur Childs, Operation Smile Volunteer
---
April 6, 2011
Surgery Day 3
The light across the old city at dawn this morning was a brilliant aqua marine blue, probably a hangover from the sand storm that had whipped through town yesterday.
Today is only the third day of surgery, yet the Operation Smile medical team was working together like they had been for years. It is amazing how quickly the bond of a shared mission has on the volunteers.
There were 36 scheduled surgeries today, but unfortunately throughout the day four children had to be either postponed or cancelled. Two were anemic and the other two had colds with chest wheezing.
Safety is our number one priority, but it broke my heart to think that these children might miss out on the opportunity of surgery due to a cold. It just seemed too unfair.
Hope for Life-Changing Surgery
To my alarm, I discovered that
Yahya was one of the children to be cancelled.
Yahya was the last little boy to be squeezed onto the surgery from the previous evening.
The pediatrician who screened him first thing said he had some chest wheezing and might not be able to have surgery at all.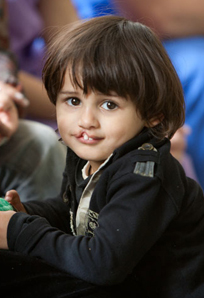 His mother and him had travelled 6 or more hours from Casablanca to be there and had spent the night in the hospital waiting for surgery the next day. Poor little Yahya had not eaten since midnight (in preparation for surgery), and his mother went from being anxious for surgery to now looking devastated that her son might miss out entirely.
With much consulting the doctors decided to put him on antibiotics and reschedule him for Friday, our last day of surgery. We pray that his chest improves in the next 48 hours.
For the patients that travel from far away, Operation Smile Morocco has some wonderful free lodging at a local school. This afternoon the volunteer photographer, our translator, two student sponsors and myself went to visit the families staying there.
We were all blown away at how beautiful the school grounds were. The Moroccan architecture was stunning with blue and white tiles, grand arches, water fountains and day beds covered in traditional fabrics.
Little Yahya was there with his mother, as well as about 20 other children and their parents. Many of the families were poor and had travelled long distances, they were all extremely grateful to have somewhere close to hospital to stay.
The student sponsors entertained the children with balloons, balls, games and other toys. They also handed out toothbrushes and soaps to the parents. You could tell that the children were delighted with the afternoons entertainment.
Living a Un-Lived Life
Yahya's mother told me about how hard it has been to deal with having her son be born with a cleft lip.
When I asked her if she had any idea why her son was born like this she told me about a common belief in Morocco.
"When a woman is pregnant she must be very careful not to look at certain things or animals. When you are pregnant and a women looks at a rabbit or a camel then it is very bad as their unborn child will develop features just like that animal. Also if she sees a child or adult with a facial deformity then she must look away instantly or the curse is passed onto her baby."
Every culture has different superstitions about clefts, but sadly many people who are uneducated take these superstitions very seriously and then take on a lifetime of personal guilt.
His mother fears for him every day, this leads to him not being permitted to play outside, have no friends and be shunned from the world.
She says she cries constantly at the thought of his un-lived life.
She says that if God chooses him to be better and receive the surgery on Friday, it will be like a dream come true.
- Fleur Childs, Operation Smile Volunteer
---
April 8, 2011
Yahya's Surgery Day
Little Yahya, his mother and his grandmother were the first to greet me as I entered the room. They said they had been praying all night in the hope that 3-year-old Yahya was well enough to have surgery today. I also said a little prayer for Yahya. The mother said she couldn't bear going home to Casablanca today without her son getting the operation. As luck, God or fate had it, Yahya was cleared for surgery by the head pediatrician.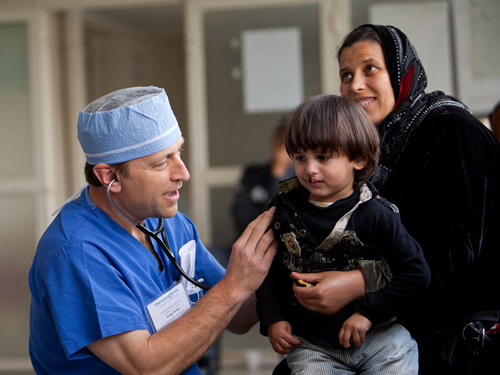 Before the surgery, he received a preoperative breathing treatment to help open up his airway from the nurse. After this treatment, I took Yahya and his mother to the child life specialist room which is the last place the mother can be before the operation.
His mother said she was so afraid for her son that he would not be well enough to have his operation. I told her that I would be going in to his surgery today, that it would take about 45 minutes to an hour, and I would let her know as soon possible that he was alright.
Anesthesiologist Matthew Soloman came to take Yahya into the operating room. I explained that he would be putting her son to sleep and watching over him. She kissed his forehead and tried not to cry as Yahya cried, too young to know what was going on.
I can't imagine the feeling she had at that moment, handing her little boy over to us with only faith that we would take care of him as our own child.
- Photos by Veronica Dana, Volunteer Photographer
Inside the operating room, Yahya cried for a few more minutes before Matthew gently put him under, inserted the IV and a breathing tube. He looked so peaceful resting on the operating table – his life to about to forever change.
Heba from Egypt was Yahya's plastic surgeon and she kindly walked me through every step of his surgery.
Heba said, "I love my work and I love explaining it to people." Watching her hands move so delicately and elegantly was fascinating. Heba explained that surgery on the lips and nose was similar to architecture or engineering - that you need to understand the structure.
She also says that the best plastic surgeons are like artists and I couldn't agree more. To me, from a non-medical background and born with a cleft lip and cleft palate, I had always felt like plastic surgeons were a mix of artists, magicians and miracle workers.
After approximately 50 minutes and 20 stitches, Yahya's cleft lip was closed and apart from the stitches it was almost impossible to visualize what he mouth looked like less than an hour ago. Incredible.
Matthew carried the sleeping Yahya into the recovery room. After Yahya's vitals had been checked by the doctors and nurses, I was allowed to bring in his mother to see him. It is important that the first face he sees when he wakes up is his mother.
She was smiling from ear to ear saying, "I feel a happiness in my heart that I have never felt before." It was the best moment on the medical mission, seeing Yahya united in the recovery room her face beaming with joy.
It has been a wonderful memorable mission with so much emotion.
- Fleur Childs, Operation Smile Volunteer
---
Surgery Day 4
Each morning at 6 a.m. the team has breakfast together, once everyone is there (we have a team of approximately 80 people), Kia, our vibrant team leader, holds a team meeting and goes over what happened yesterday and what is planned for the day ahead.
Each day a little electric guitar is given to a team member for being a rock star.
This morning it was given to a well-deserving longtime Moroccan volunteer Aicha. Aicha has been a volunteer since the beginning of Operation Smile Morocco in 1999.
When the team asked Aicha for an acceptance speech she said that this year was extra special for her, as not only was she volunteering, but her nephew was a patient so she experiencing Operation Smile from the opposite side of the spectrum. Tears of happiness filled hers and many others including me.
During the afternoon I went to visit the school where the patients from far away are staying. The families were having a delicious traditional lunch when we arrived. All the women and their babies sat at one large round table and the men at another.
The women kindly asked me to join them in their shared chicken and vegetable feast. A women who was wearing a full head scarf that showed only her eyes asked me if I could help her.
She had travelled for over 6 hours today to Fes to the Operation Smile mission site and when she arrived she was told that she was too late and the schedule was full. She was 45 years old, born with a bilateral cleft lip and had had surgery from a local doctor when she was 15 years old. She has covered her face for as long as she can remember.
Her parents never sent her outside much and she never went to school. I said that I couldn't guarantee that she would receive surgery but I could try to get a surgeon to give her a consultation.
Together, we walked back to the hospital. Once alerted to my new friend the incredible Operation Smile surgeons gathered around and examined her. To her luck, there had been three cancellations today and in about an hour and half there was a free spot on the schedule. To her and my amazement, she was going to receive the surgery she so desperately desired.
Tomorrow is the last day of the medical mission and I am already feeling sad that it has all gone so quickly. I am going to miss Morocco and all the new friends that I have made on this mission. Once you get to share such an incredible and intense experience together you know you will be friends for life.
- Fleur Childs, Operation Smile Volunteer
---
April 8, 2011
Surgery Day 5
There was a lot of lasts today. The last team breakfast, last bus ride at sunrise, last 10 a.m. tea break with yummy Moroccan sweets, and most importantly the last round of patients waiting for their surgeries.
The Fes mission had become like my favorite pair of jeans, so comfortable I never wanted to take them off. One of the volunteers commented that she wanted to do everything extra slowly today as she didn't want it to end.
The first thing I do once inside the Omar Dissi Hospital is do the rounds. I visit the post-operative room where yesterday's patients had spent the night with their guardians.
A Second Chance for 45-Year-Old Woman
The 45-year-old women from yesterday's surgery schedule was sitting up in bed, she was still a bit sore from the bilateral lip repair but her eyes showed how happy she was to have received the surgery. Unable to kiss me she squeezed my hands and thanked Operation Smile from the bottom of her heart for helping her.
On the bed opposite from her, was a 1-and-half-year-old baby boy lying on the bed with his mother. He had had a bilateral cleft lip and it looked amazing despite only having it done the day before. The boy was so adorable I just wanted to eat him up.
The delighted mother asked if she could take my picture with the baby, she said she'd show him that this is what he would look like in the future, pointing to my small cleft lip scar. It was so nice to have a patient's parent take the picture of me instead of the other way round. I happily posed for as many pictures as she wanted.
Next up, I went into the pre-operative room where the patients and their parents had been waiting anxiously from the night before. There were only 17 patients today, as the last day of surgery is always a half day to allow for time to pack up.
---
April 9, 2011
Mission Accomplished
Well, this was one amazing opportunity and something I will remember forever. Our final "unofficial" tally was
147 surgeries and smiling faces
.
It is difficult to explain the sense of gratification one feels after completing an Operation Smile medical mission. Performing cleft lip (and cleft palate) repair is the most gratifying surgery I have performed as a plastic surgery resident.
And to be able to perform this surgery for less fortunate patients and see their immense happiness is something I will always cherish.
I was amazed to meet and work with fantastic individuals both in the operating room and outside the medical environment. We have bonded over such an incredible and intense experience that I know we'll be friends for life.
The opportunity to see the world, perform gratifying surgeries, and meet amazing people is what I call "living the life." I cannot wait to go on another medical mission and relive such an experience again.
- Matt Blanton, Regan Fellow, Plastic Surgery Resident at Duke University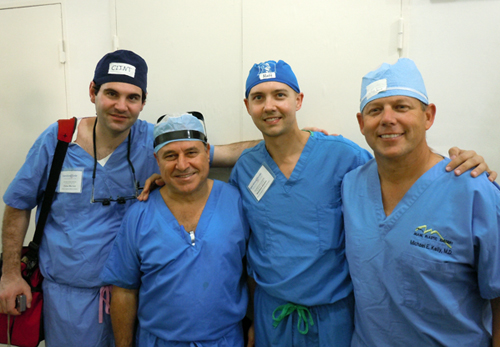 ---
View all news >>